All Reviews Listing
Review date: 13-Oct-2009
Do yourself a favor friends. If a hot girl demands to borrow your shiny new video camera, let it go. Give it to her with a full battery and let her have some fun with it. I Film Myself is a crazy fun niche site. Some of the hottest and nastiest sex addicts on the web come together here to cum alone....
Review date: 14-May-2010
I Know That Girl gives you hot videos and pictures of real teen ex-girlfriends. These dirty home movies were taken from hacked profiles and submitted by users. Okay- so these claims aren't exactly true. But the content here is sizzling hot and the teen girls beyond belief. I am sure they were someon...
Review date: 25-Nov-2009
If there's something women love, it's hard, monster cocks! That's no lie and every man and woman knows it. Do you like watching tight, stacked women take large cock in every orifice you can imagine? If so, the site I Love Monster Cocks is the site for you! This site offers the largest cocks penetrat...
Review date: 31-Dec-2009
He's one of the biggest legends in porn in more ways than one. He is the kind of guy who can really sink himself in his work. His name is Peter North, and this is the website dedicated to all the women who have swallowed Peter's seed. I Swallow Peter North is a site that can let anyone see why women...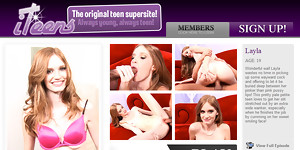 Review date: 9-Feb-2010
I Teens is a site dedicated to all the cute little young sluts, fresh out of high school that you can almost imagine still holding a cute teddy bear in their hands. The not so innocent teens on this site however, are long past the teddy bear phase and they have found out that holding a thick hard co...
Review date: 16-Jun-2010
Don't get confused by the site name. In Gang We Bang is a hardcore orgy site and isn't about gangbanging. You will find videos of crazy sex parties with the hottest girls who just can't get enough cock. With fun locations and about four pornstar babes in every scene, you can be sure that you are get...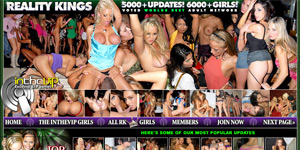 Review date: 20-Aug-2009
InTheVip brings partying hard to a whole new level of meaning. This truly unique site bases its 160+ episodes on parties where glam meets hardcore. Lights, limos, lovely girls ready to lick each other's horny pussies and fuck a random stud, this is the VIP level of partying, and now you can take a p...
Review date: 13-Oct-2009
When is the last time that you fucked a hot freak in her tight ass and then watched the cum flow out of her hot tight hole? When is the last time that you watched a wet cunt spurt out your hot man juice? There is something special about watching cum flowing out of a nasty chick after a frenzied fuck...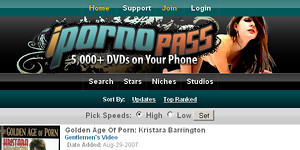 Review date: 11-Oct-2010
Porn movies started out in adult video houses and eventually moved their way into homes on VHS, DVDs and finally onto hard drives. Now, with mobile porn sites you can get thousands of xxx videos packed into your tiny mobile phone. If you need to access porn but aren't at home to watch it, then you w...
Review date: 25-Nov-2009
Do you like watching hot women take on big black cock? Do you love watching women get impaled by 10 inch black anacondas and more? You're dreams are coming true as It's A Big Black Thing comes at you hard and fast to show women of all backgrounds suck and fuck huge black cock and take it in every ho...