All Reviews Listing
Review date: 28-May-2010
Obsessed with Myself is a site that gives you amateur girls who love to take sexy pictures of themselves in kinky outfits or lingerie. These girls love attention so much that their homemade nude pictures and videos end up online and make their way over to this site. You will get hot content from hac...
Review date: 17-Aug-2009
Some young ladies love studs their own age, but a special kind of girl know that men only get better with age, particularly when it comes to their sexual skills! Here at Old Farts Young Tarts, you can see what happens when experience pays off for some old dudes and they manage to land hot young hone...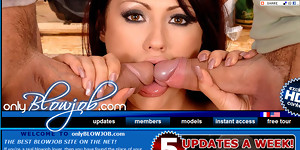 Review date: 3-Apr-2010
Only Blowjob isn't just a site where you can find girls sucking on cocks. This is site that has perfected the art of blowjob porn to the point that it is delivering it to you in styles. You will get videos in eight different categories like gloryhole, point of view, BJ orgy and castings. These are r...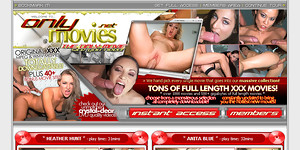 Review date: 16-Oct-2009
As the name suggests, Only Movies is all about videos and this is a hardcore site. This one is for porn lovers who enjoy general hardcore fun and the core collection generally doesn't venture beyond the porn basics of sucking and fucking. Membership comes with a large bonus package of over 30 additi...
Review date: 23-Jun-2010
These horny girls are so hungry for cum that they are willing to do anything to get it. They gag themselves on big cocks, take fierce anal and battle several cocks at once. As you'd expect with a site called Only Swallows, the finale shows the girls with their mouths wide open as they catch the spra...
Review date: 17-Nov-2009
Only Teen Blowjobs starts off hot from the sign-in page. Sexy little Ruby Red sucks on a rainbow lollipop like it's the best thing she ever tasted. Her mouth work is so fine that you just wish your cock were as candy flavoured as that sucker. Fortunately, Ruby red has a sweet spot for rock hard cock...
Review date: 18-Jun-2010
What are these hot babes doing outside with their fingers up their slippery pink slots? The hot Euro babes are enjoying Open Air Pleasures! This is an interesting twist on the masturbation niche especially since the sun glistens so nicely against a wet pussy. There is no exhibitionism but the natura...
Review date: 29-May-2010
Of all the homemade porn, amateur blowjobs are have got to be the best. You get amazing POV shots of hot young chicks starring up at you with big eyes bulging from the cock stuffed in their mouths. Their heads bob up and down while their little fingers work magic on the rod. With their faces so clos...
Review date: 9-Feb-2010
There is something inherently fun about joining a big bunch of people that are fucking. On hardcore group sex parties a man and a woman can have the most fun they have had in their lives if they can relax and just go with the flow. The wild, crazy bashes on Orgy Sex Parties are full of such guys and...
Review date: 15-Oct-2009
Our Homemade Porno offers an exclusive collection of truly amateur hardcore porn flicks filmed in private homes, many times by the couple actually doing the fucking. Real-life girlfriends suck dick, fuck, play with toys, and more, all on camera! Some of these amateur babes even lez out on film, and ...