Deep Throat Porn Sites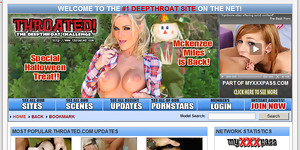 Review date: 17-Nov-2009
The opening text of Throated makes the site sound like a dominator's dream, with women being force-fed cocks against their will. If dominance is your thing, then this site may not be for you, but if you want to see hot, horny women begging to be fed big pulsing cocks, then this is the site will be s...
Review date: 8-Jul-2010
These women have such a frenzy for cock that they have to fill their hungry mouths with multiple meat rods. You will see gorgeous babes sucking down up to four cocks at once, licking black pythons, sucking balls and getting wads of cum blast all over their pretty faces. Fans of a good blowjob will l...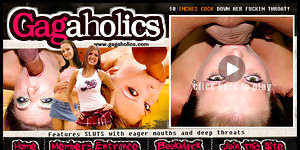 Review date: 1-Apr-2010
These girls have such intense cock additions that they have to visit a doctor for rehabilitation. Instead of curing the kinky sluts, the dirty doctor shoves his cock down their throats and gives them a taste of his medicine. The Gagaholics are definitely slutty and love every bit of the throat bangi...
Review date: 4-Jun-2010
If you didn't think that blowjobs could be hardcore, it's time to take a look at Mouth Drillers. The site gives you a buffet of babes slurping down meat rods in face fucking gang bangs, interracial scenes and bukkake showers. The blowjobs aren't brutal but they get raunchy enough to deliver up some ...