Latest reviews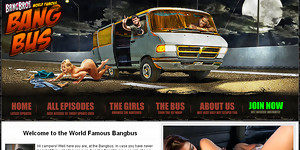 Review date: 31-Dec-2010
You know all those reality porn sites where guys go around in their cars looking for chicks to fuck? Well, Bang Bus started that craze! Going back to 2001, this is the first site by the professional pervs at Bang Bros. Since its launch, Bang Bus has been consistently delivering the hottest and horni...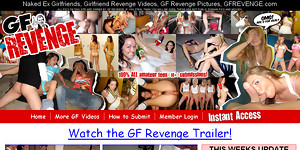 Review date: 11-Dec-2010
Has your girlfriend dumped you and you are pissed off? Then why not get revenge! At GF Revenge, you can send in your homemade videos and pictures of your ex girlfriend and get cash for the hot submissions. Or, you can always just sign up and enjoy all of the other amateur girlfriends found in this l...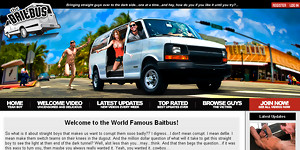 Review date: 10-Dec-2010
How do you convince a straight guy to have gay sex? You don't - you trick him instead! Bait Bus does this by using a sexy girl to lure straight men into the back of the bus. Once the guy is hard and ready for action, they surprise him with a lubed up gay ass! Even though the guys refuse, they always...
Review date: 10-Dec-2010
You don't have to join a sorority to find out what all those naughty college teens are doing during their parties and initiations! At Lightspeed Sorority, you get to see all the fun that cute lesbian college girls have in exclusive photos and videos. As part of the Lightspeed network, membership als...
Review date: 8-Dec-2010
Patrick and John set out in their VW van to pick up random chicks on the streets and invite them to fuck in their backseat. I can't tell you what lines these guys use to convince the amateur girls because the site is all in German. However, you don't need any translation to understand this great har...
Review date: 8-Dec-2010
Intro If you are a sexy chick and need a place to stay in Berlin, don't bother looking for a cheap hotel. These two flatmates will gladly give you a room for the night - so long as you serve sex for breakfast! This German reality site gives hardcore porn videos featuring a variety of amateur girls. ...
Review date: 8-Dec-2010
Big Mouthfuls just got named the AVN Winner for Best Website of 2010. This honor is well deserved by a site which has been around since 2003 and is consistently creaming the hottest amateur girls with massive cum shots after great hardcore sex. Big Mouthfuls is brought to you by the Bang Bros networ...
Review date: 7-Dec-2010
We all know the real reason that guys use dating sites is so they can get laid. But this guy Dave has taken the dating site potential to the next level - he is filming his dates so we can enjoy watching these slutty amateurs getting fucked! Even if you can't make sense of the language in these Germa...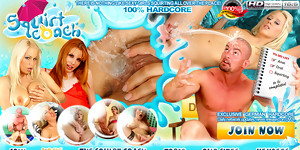 Review date: 7-Dec-2010
Squirt Coach gives you the hottest geysers you've ever seen and they are located right between a girl's legs! This German porn site will give you exclusive hardcore videos featuring sexy European porn stars you might not have seen before. Every one of them gets fucked so crazily that their pink puss...
Review date: 6-Dec-2010
At Monsters Of Cock, you will find hardcore videos featuring gigantic one-eyed black beasts. Only the horniest sexy babes are capable of handling such big cocks which means you are going to see some of the most skilled pornstars in the industry battling against these dark meat poles. With hundreds o...