Latest reviews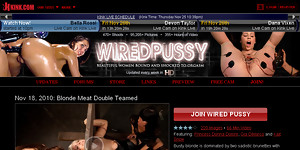 Review date: 26-Nov-2010
Wired Pussy gives you beautiful women in extreme lesbian bondage combined with intense electro shock play. The sexy slave girls have their pussies dominated by the skilled mistresses until they are cumming all over from electric current. Wired Pussy is a premier, one of a kind site with a huge colle...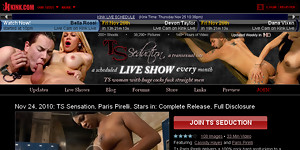 Review date: 26-Nov-2010
At TS Seduction, you will find straight men in bondage and at the mercy of hot dominant trannies for the very first time. Since TS Seduction is brought to you by the masters and mistresses at Kink.com, you can be sure that you are getting original, top quality tranny porn combined with all that kink...
Review date: 25-Nov-2010
Kink.com is a leading network of porn when it comes to BDSM and fetish sex. Now, you can get a tasty sample of all that this network has to offer at their site Free-Hardcore.com. You will find updates from sites like The Upper Floor, Divine Bitches, Everything Butt, Public Disgrace, and more. Just b...
Review date: 25-Nov-2010
If you love to see girls getting wet in bondage, then it is time to check out Water Bondage from the lifestyle masters and mistresses at Kink.com. At Water Bondage, you will see elegance meeting the most extreme BDSM. Not only are these girls having their physical limits of pain pushed, but the brea...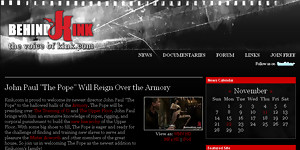 Review date: 24-Nov-2010
Behind Kink is "the voice of Kink.com". In case you didn't know, Kink.com is a network of fetish sites that give you some of the most intense and hardcore BDSM you've ever seen. Behind Kink will keep you informed on everything that is happening in the network and even give you some fun news about fe...
Review date: 24-Nov-2010
What would you do if you saw a sexy chick naked and hogtied in a busy street? You might have fantasized about this before but you can actually see it at Public Disgrace. Brought to you by the fetish masters at Kink.com, Public Disgrace combines bondage and abuse with complete humiliation. These sexy...
Review date: 23-Nov-2010
Some bondage sites give you vanilla BDSM while others just fake torture with actors - not Device Bondage! There are no actors here and all of the masters, mistresses and slave girls are true life style fetishists who enjoy abusing or being abused. The proof is in the scorching red of flesh after it ...
Review date: 23-Nov-2010
This site gives you girls and sex toys but it is far from your typical masturbation site! At Fucking Machines, sexy amateurs and pornstars take on massive electrical sex machines that conquer their pussies until floods of orgasm juices are gushing out. Be prepared to meet machines like the Intruder,...
Review date: 22-Nov-2010
Forget about boring male masturbation videos! Butt Machine Boys gives you the kinkiest anal fucking with crazy sex machines. These sexy men get their assholes completely dominated until they are sweating and pulsating in painful pleasure. Butt Machine Boys makes sure that you never get bored with th...
Review date: 22-Nov-2010
Once again, Kink.com is bringing us the hottest gay BDSM you will find online. This time, it is at their new site Bound In Public that gives you all the kinky gay bondage you'd expect from Kink.com but with a dose of humiliation thrown into the mix. Expect to see submissive gay slaves being turned i...